Divya is a qualified yoga instructor with a Master's degree in Yogic sciences from the university of Sanskrit in Uttarakhand. She is an adapt with mantra chantings, healing meditations. Her skills involves teaching prenatal and post natal yoga as well as Mantra chantings, bhajans and kirtans and musical compositions conducive to the yogic growth and development of students. She is a certified Pranayama teacher and also a certified Sound Healer. Her gentle methods, soulful voice and calm presence makes her teaching deep and soothing. She is also taking care of ashram kitchen providing the best of meals to our students. Her gentle voice and humble attitude is her strengths in creating a positive environment all around the ashram. She has been a part of the gurukul for last 12 years and is passionate about sharing her knowledge with all. 
Kalpendra Chauhan, who has been on the path of Yoga and spirituality from an early age of 19 born and brought up in traditional north Indian Spiritual family .  
His expertise lies in understanding the science behind yoga, breathing, meditation, and relaxation practices to help people find the balance between mind, body, and soul. 
He has obtained Masters degree in Yoga science from Uttarakhand Sanskrit Universityi, Haridwar in 2008. He also has earned a post-graduate Diploma in Yoga and Holistic Health from HNB Garhwal University in 2005 and Certfied Yoga teacher (ERYT 500 from Yoga Alliance USA),He has been teaching Yoga Philosophy, Pranayam , Yoga Nidra and Meditation for over 12 years now. His simplicity transcends into his teaching philosophy. His depth of knowledge, yoga expertise, and humility makes him a favorite among students. He has unique expertise in his subject where he gives more importance on implementation rather than theoretical knowledge.He is considered one of the best yoga teacher and most friendly person.
His span of work experience includes designing Yoga programs & curriculam, training future Yoga teachers, delivering meditation courses and breathing workshops in India as well as abroad.
He has been teaching for past 10 years  incorporating Yoga with Human Anatomy and Physiology. He has a beautiful style of merging spiritual science with modern science. He strongly believes that is is very important for a person to know one's body structures in order to get deeper into their consciousness and he is making this journey easier for people. Professionally, he is Master in Yogic Sciences and while doing the degree only he got selected by his Gurus to serve Indian Army as a Yoga trainer in Raiwala Cantt., Dehradun for one year. He is also a Registered Yoga Teacher 200 from Yoga Alliance U.S.
 ( SAM), born & brought up in well known international capital of yoga RISHIKESH  has been imparting awakening, life altering, healing, Soul Conscious sessions for the desirous & ill for last 22 years. He was trained initially under the Iyengar Yoga tradition in Rishikesh at Yoga Study Center in all the  aspects of pranayama (breathing), asana (postures) and meditation. He speicalises in teaching Iyengar style of Yoga using different modalities of practice. His classes are worth attending. 
During HIS yoga journey   HE completed 3 year (DYNS) diploma in naturopathy and yoga science and after study for master degree in yoga. Since 1999  he do vipasana mediation 
From an array of beyond mind varied techniques he makes sure to alter your Attitude, perception & orientation for a healthy, happy & productive life. 
He has STARTED worked with ,PARMARTH NIKETAN  NATURE  CURE CENTRE, (RISHIKESH  RANA RESORT (POKHRA  , NEPAL) , MANTRA HOLISTIC  , BRISBAIN Australia ,  VRKSHA YOGA (GUANGZHOU ,CHINA ), HAOMEN INTERNATIONAL YOGA CENTER ,ZHONGSHAN CHINA  through his specific YyogASANA techniques. He  Has also founder of SUN MOON YOGA zhongshan CHINA. He has worked as health consultant with, many companies in china .AFTER declared INTERNATIONAL YOGA DAY HE has successfully ORGANISED many international yoga days. In 2017 he was awarded one of best yoga master in Guangdong province CHINA.  
Sushant is a world-renowned teacher of Hatha Yoga, Kundaloni Yoga, meditation, and relaxation, having taught globally for over 20 years. With a masters in Yoga Psychology and experience in broad settings, he has a deep understanding of the philosophical, psychological and practical aspects of yogic traditions. 
Sushant is the former Head of Yoga at Ananda in the Himalayas and is now an independent teacher and trainer in India with specialization in traditional Hatha Yoga, Kundalini Yoga, Pranayama (breath-work) and various traditional techniques of meditation like Yoga Nidra (A Systematic Yogic Relaxation), Chakra Shuddhi (Chakra Cleansing Meditation) and many mindfulness techniques. 
Sushant conducts workshops on Kriya Yoga, Kundalini Yoga, traditional Hatha Yoga and meditation worldwide and specializes in delivering philosophy talks on Samkhya, Tantra and Patanjali Yoga Sutras.
Anil is a reflection of calmness and composure. A Postgraduate from H.N.B.G University of Yoga and Alternative Therapies (2014) & a certified Teacher TTC200hr RYS from Vyasa Yoga Peeth Rishikesh from Yoga Alliance, he possess all the necessary skills to share the knowledge of vinyasa yoga & Yin Yoga. He was born and bought up in Rishikesh. His courses are full of vitality and energy. He devotes himself wholeheartedly to his yoga career. He is very patient and careful in teaching his students.  He has his own unique teaching plan, which is very targeted and tailors a yoga plan for each student.
His philosophy towards teaching is that the heart is the center of love and compassion for self and others.  An open and balanced mind brings wisdom, dignity, success, the satisfaction of your desires and a strong immune system.  Clear tangles with the past, open your heart, build self-love, and awaken compassion.  Experience the connection deep within your heart and soul.
 Anil has knowledge of various meditation techniques.  He has also spent a considerable time to learn self-discipline in an Ashram called Yoga Niketan, located at the foothills of the Himalayas, near the holy river Ganges.
Yogi Sunil Sharma is a highly respected and experienced yoga practitioner and teacher, with over 20 years of experience teaching yoga in Rishikesh, India and around the world. He began his journey with yoga at Kaivalyadham in 2000 and has since evolved his practice to help people heal using various limbs of Yoga through carefully designed programs. His specializes in teaching various techniques of pranayama and meditations and also healing methods to allow for an overall development of the personality while overcoming the obstacles of body and mind. He is gentle in his approach and super kind at heart. 
Kresha is a 500 hour certified yoga teacher and a certified pre & post natal yoga teacher. She is young and interactive teacher with a passion about yogic life. She conducts healing, meditations and pranayama sessions and also guides students through their problems. She strongly believes in the idea of community and have dedicated past 4 years of her life in rishikesh teaching at various workshops and courses.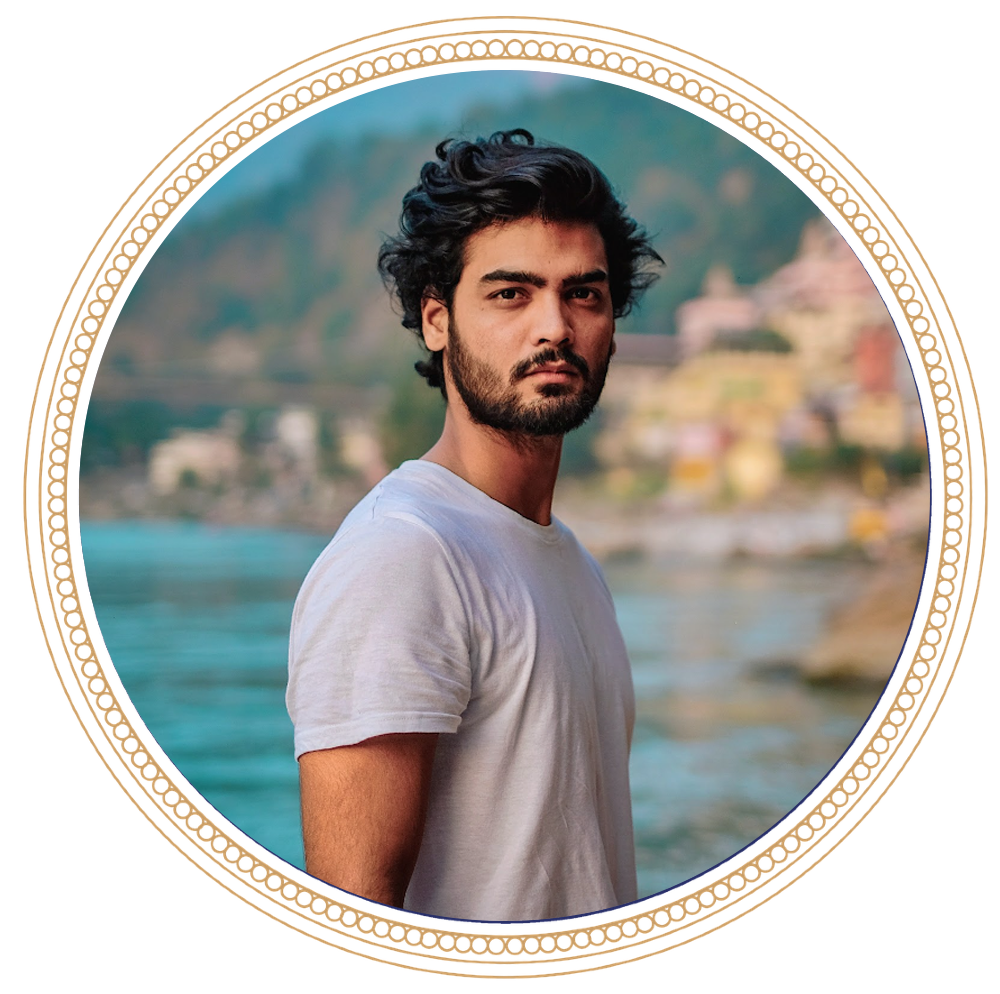 Master Ankit is a miraculous professional yoga teacher. With over 8 years of experience, Ankit has the knowledge and expertise to guide students of all levels and abilities in their yoga practice. His passion for yoga shines through in his classes, and his infectious energy and positive attitude make him a treasured teacher among his students.
Master Ankit is known for his ability to create a safe and supportive environment in which students can explore their limits and challenge themselves. His classes are dynamic and thought-provoking, and his attention to alignment and safety ensures that students are able to practice with confidence and ease.
In addition to his teaching skills, Ankit is also an expert in anatomy and Acro Yoga, and his deep understanding of the body allows him to offer modifications and adjustments that are safe and effective for each individual student.
Yogi Ankit is a true believer in the power of yoga to transform lives, and his goal is to share this transformative practice with as many people as possible. His commitment to his students and his love for yoga make him a miraculous professional yoga teacher, and we are grateful to have him as part of our community.
Born in a pious family Dr. Mahesh is an expert of Yoga therapy and Philosophy. He completed his doctorate in Yoga therapy from Uttarakhand Sanskrit University. His teachings include yoga philosophy and its application in modern lives and also yoga therapy which is a vast field of alternative medicine. Mahesh has spent a big part of his life in learning and teaching the energetic aspects of yoga. He teaches yoga sutras of patanjali, yoga therapy and alternative therapies. His experience is vast and he has worked on various domestic and international platforms teaching philosophical application of yoga to different groups of participants. He is one of the core members of Jeevmoksha team.